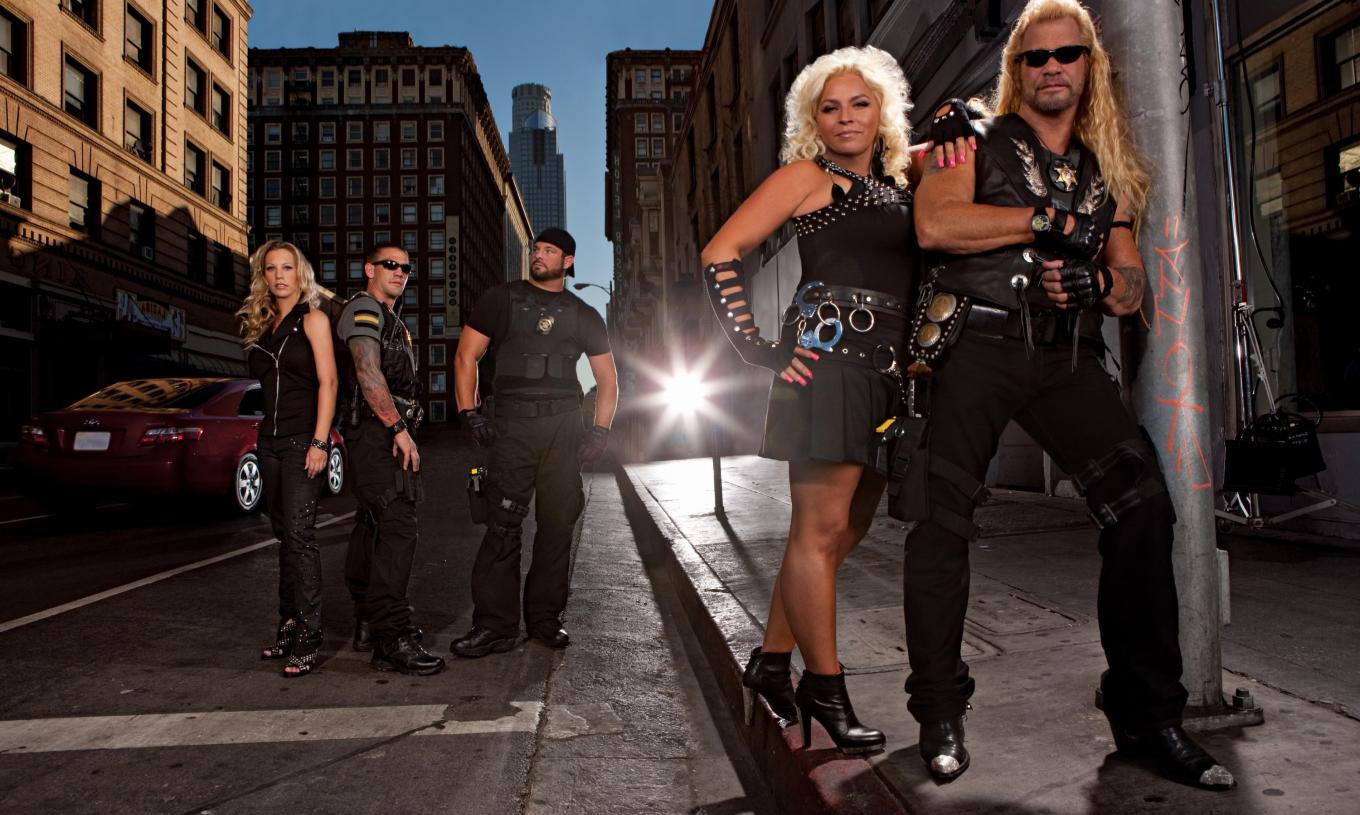 DOG THE BOUNTY HUNTER
Upcoming episodes
2020
11
07
16
00
Meet the Chapmans
For anyone who believes drug use is a victimless crime these two cases should change they're minds. Both offer vivid evidence of the damage and destruction addiction brings both to individuals and entire families.
2020
11
07
16
30
Father and Son
Duane Lee is sick today, so the team is one man short. Dog calls in Justin, a former team-member, but Tim and Leland are worried that Justin isn't a true team player. They are going after Kimberly, with over 20 violations she is a habitual traffic offender. Dog and his boys have to navigate misleading informants, belligerent boat dwellers, and angry drunks before they grab Kimberly in a dramatic bust and bring her to jail. For all his hard work, Justin gets Dog's blessing, as well as solid handshakes from Tim and Leland.
2020
11
07
17
00
Competition , The
Baby Lyssa is a big girl now! She's just turned eighteen and she's studying to become a bondsman. But Dog and Beth think that "you can't get 'em out if you don't know how to put 'em back in." So that means going to work with Dad and the posse. Her training gets off to a rocky start though when Beth must first approve Lyssa's wardrobe. Lyssa's primary concern is looking pretty, but Beth's experience tells her that the novice must dress appropriately and this includes wearing sensible shoes. It takes Lyssa three tries before she passes muster and is allowed to join the hunt.
2020
11
07
17
30
Bounty Hunters Have Hearts Too
Bounty hunter Duane "Dog" Chapman, his wife Beth and family are returning for season three of A&E's hit real-life series, Dog the Bounty Hunter. This season we can expect more riveting episodes featuring the life of the Chapmans at home and on the road, chasing people on the run.
2020
11
07
18
00
Love's Labors Lost and Found
Beth buys Dog a shirt with an embroidered chicken that looks like a dragon, but Dog explains he only wears shirts with pictures of either Jesus or a Harley-Davidson. When it's time to go to work, the team goes after Necia, a fugitive with felony charges pending and a history of failing to appear in court. After the team surrounds Necia's house, she comes out full of excuses about why she missed court. Beth is skeptical about the excuses until Necia's 10-year-old daughter comes out for a tearful goodbye, and Beth realizes that Necia's had a tough life.
2020
11
07
18
30
Godfather of Waikiki , The
It's Christmas day, and Dog sets out to nab Raymond, who robs to support his ice habit, and give him a little Christmas gift - shiny new handcuffs. A passerby in Chinatown tells Dog that Raymond's asleep on a park bench, but when the team sneaks up, they find it's not their man. It's not until the next morning that the case is solved - in a very surprising way.
2020
11
14
16
00
Hide and Seek - Part 1
Dog and Beth have their hands full when they go after their former housekeeper, Lisa, who's jumped bond. They know this case will be tricky because Lisa knows everyone in the family. But as luck will have it, Beth's nephew, Jason, is visiting from Texas and quickly put to work as the bait. When the team closes in on Lisa's building, she tries to escape over her back balcony, but ultimately surrenders to Beth. It's a bittersweet victory as Dog comforts Lisa while she cries in his arms before going off to jail.
2020
11
14
16
30
Justin's big Day
Before Tim heads out for a tough day of bounty hunting, he likes to get in a little quality time with his daughter, Summer Rain. This morning, he takes the toddler for a spin around the yard in her little red wagon. It's a much-needed moment of domestic tranquility, as today's hunt will be especially stressful. Richard, one of Tim's own clients, did not show up for court and if the team doesn't catch him, Tim will have to pay the bond.
2020
11
14
17
00
It's Good to be Home
What better way for Dog to start his morning, than at an elementary school Career Day, inspiring a new generation of potential bounty hunters? After giving a rousing speech to an audience of enthusiastic grade-schoolers, Dog catches up with an old friend, Sheriff Tommy Cayetano, to talk business. Dog's got a tough fugitive to catch and Tommy is happy to lend a hand. Mia is no ordinary fugitive--even the FBI wants to talk with her because of her drug world connections. As Dog and the crew are heading out on their first lead, they get a hot tip--Mia's distinctive red car has been spotted, parked in a busy downtown area. After a tense stakeout and a dramatic bust, Dog finds that his work has just begun.
2020
11
14
17
30
You Can't Go Home Again
Dog knows very little about Peter, but what he does know, he doesn't like! Not only is he currently facing two counts of second degree sexual assault, he's racked up numerous restraining orders over the years, and a week ago he dropped out of sight before missing his court date. The team begins their hunt with just a photograph and his father's address. The dad gives Dog some clues for the hunt, but the information is sketchy. With day turning to night, Dog approaches the alleged victim and ex-girlfriend, Natasha, for assistance. She is happy to help and agrees to set up a meeting with him where Dog could trap him. But just as the meeting is supposed to take place, Peter calls Natasha from the airport--he is about to board a plane for the mainland! The hunt begins.