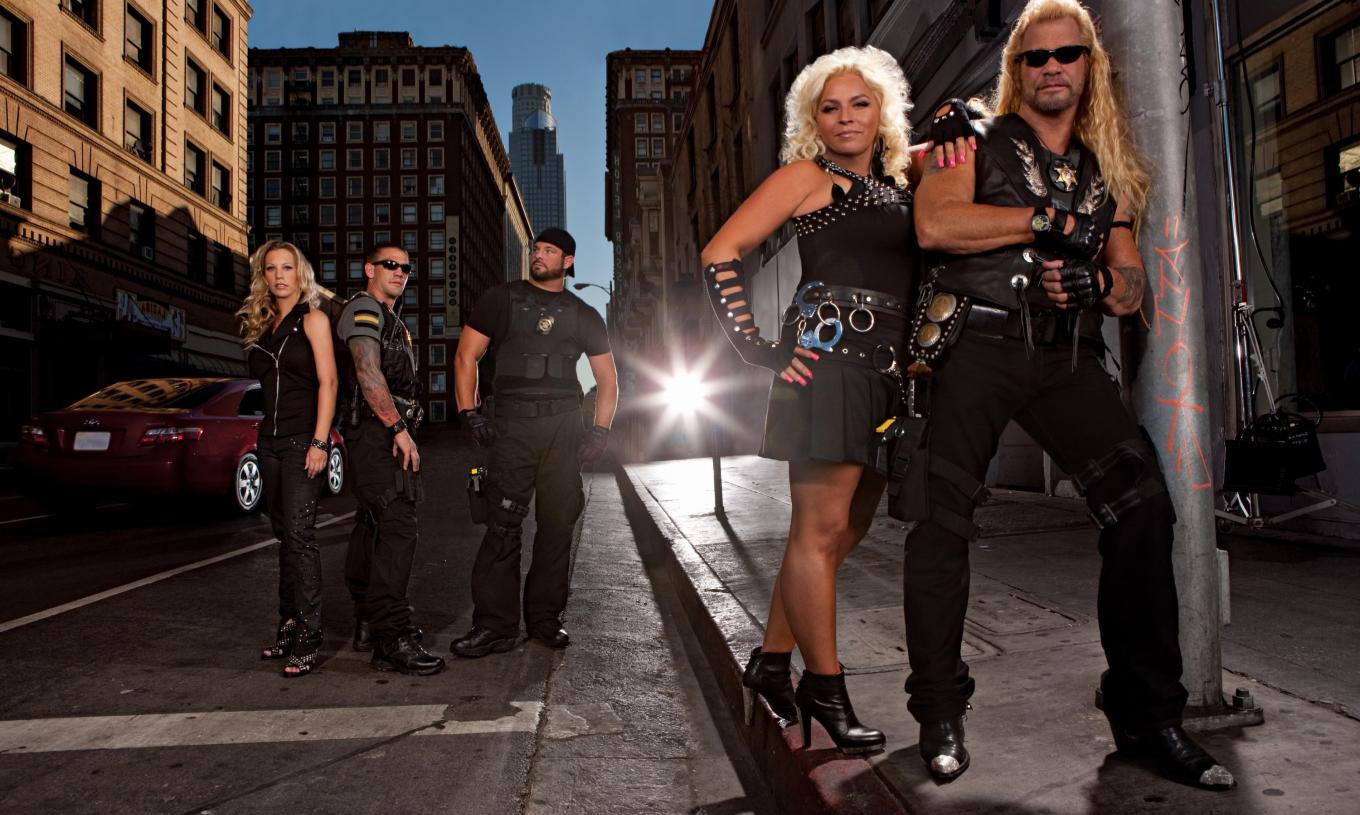 DOG THE BOUNTY HUNTER
Upcoming episodes
2021
01
23
16
00
Big Wipe-Out , The
Dog and his team are out to revoke bail on Eugene, a chronic heroin addict. They find him in a squalid apartment with a huge stockpile of syringes, and they can see that his physical condition is deteriorating. Beth tells Eugene about her first husband, whose life was ruined by heroin, and pleads with Eugene to go to rehab.
2021
01
23
16
30
You Can Bet On It!
Dog and his team fight the war on ice - crystal methamphetamine - on many fronts. They appear on a special anti-drug float in a parade. Then they go after bail-jumping Pana, a convicted drug dealer with a reputation for being a member of the deadly California gang, the Bloods. They get help from a woman who has a score to settle with the fugitive, and she offers to help Dog lay a trap for Pana and spring it at midnight in Chinatown.
2021
01
23
17
00
Fly Boy
Hunting down a fugitive known as "Bozo," Dog gets help from an unexpected source - Bozo's father-in-law. When they find Bozo, he protests his wife-beating charge, saying he never hit her with his fist, only his open hand. That's not good enough for Dog, who hauls him away to the police station with little sympathy.
2021
01
23
17
30
Guns & Ice
Dog and the team get a big surprise after they track down Bosco, a fugitive who they believe is addicted to methamphetamines. They discover he's off drugs, settling into a normal life with a new girlfriend, and is very friendly. But despite their newfound fondness for Bosco, business is business, and they hand him over to the Hawaii police.
2021
01
23
18
00
Good Fight , The
Leland has a full plate of fugitives in Kona, and the whole family heads to the Big Island to help. They capture Clifford, who has a nasty habit of hitting his wife. On the ride to jail, Dog tries to make Clifford understand that hitting his wife won't make her love him. And at the police station, Dog says we are all our brother's keepers, and we must all try to help Clifford change.
2021
01
23
18
30
Last Call , The
Dog visits his mother's grave for inspiration before heading out to find Frankie, a violent fugitive hiding in the jungle. The spirit of Ma Chapman seems to help when Dog finds an unusual ally - Frankie's mother, who believes that helping Dog bring her son in is the best thing she can do for him.
2021
01
30
16
00
Smackdown of Baby Lyssa , The
Dog lectures high school students about the dangers of drugs before going after Joseph, a dangerous fugitive who won't be easy to capture. Dog gets special help from a UPS driver, but has to reject the assistance of another potential ally--4-year-old Garry, who wants to go after Joseph, but is dragged back to the house kicking and screaming.
2021
01
30
16
30
Friend in Need, A
Dog, taking the day off to try his hand at coaching, assigns Tim and Leland to track down Emmanuel, a fugitive with terminal cancer who's got nothing to lose by running. Can the boys prove to Dog and Beth that they can handle a difficult job on their own?
2021
01
30
17
00
Crime Don't Pay
The boys get distracted by the bikini-clad lovelies on Waikiki when they hunt for Lucy, a homeless, alcoholic fugitive. Beth is amused by the boys, but this is serious business: Tim will have to pay the bond if Lucy isn't caught.
2021
01
30
17
30
Twisted Love
Dog faces a tough personal and professional situation when he must hunt down his friend, Ili, who has helped him on many busts. But now Ili's on the other side of the law. She's didn't come to court to answer charges that she burned down her house after a fight with her husband, and now Dog must bring her in.