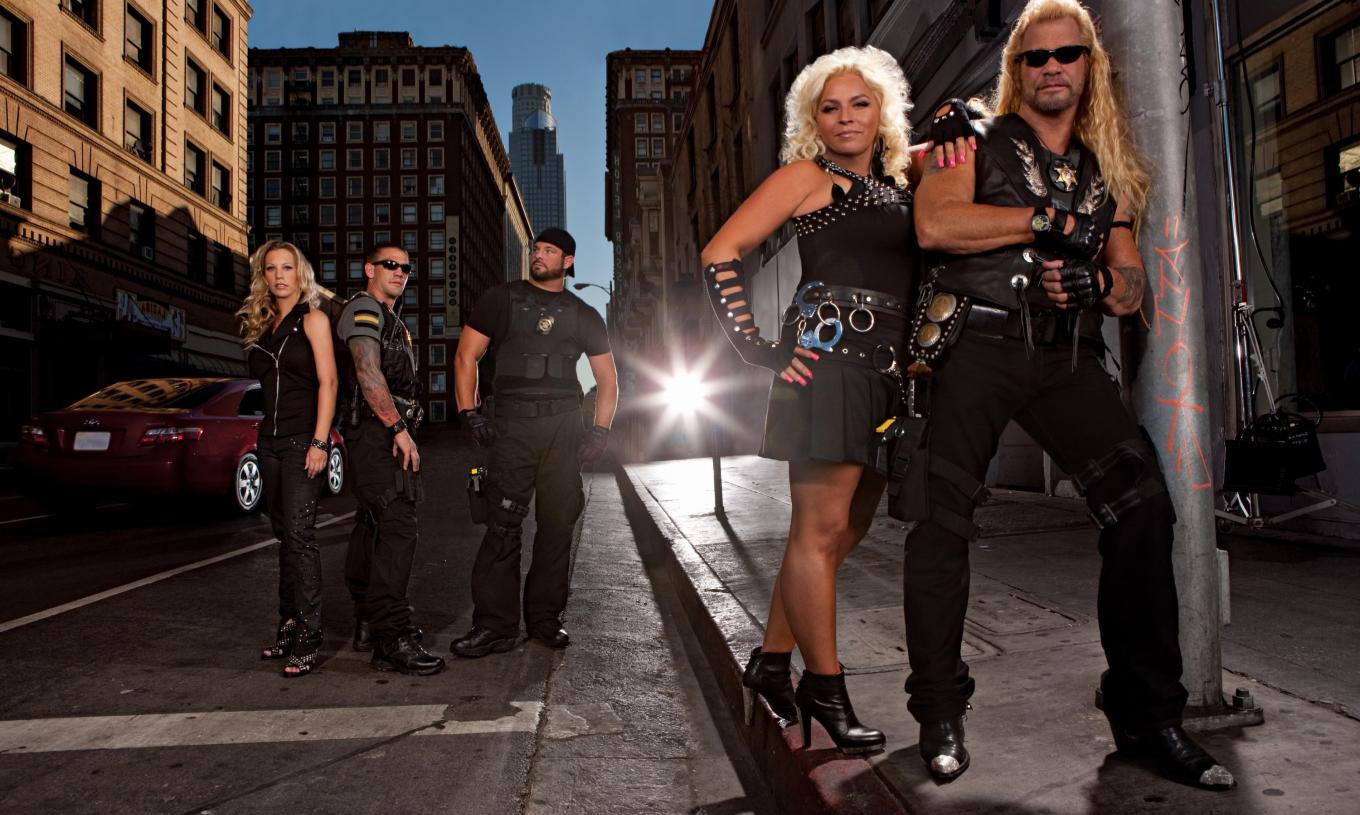 DOG THE BOUNTY HUNTER
Upcoming episodes
2021
04
24
14
00
Vegas or Bust
Upset because one his puppies may die and wanting to give the little guy a second chance in life, Dog decides to offer one of the fugitives a second chance, too. He captures Paul, an "Ice Head" methamphetamine addict, then steers him to a rehab program instead of jail. The next day, Dog, Bonnie, and Cicely head for the vet's office, where they discover the puppy is OK. They name him Lucky, because like Paul, he's lucky to be alive.
2021
04
24
14
30
Playing Possum
Dog decides to liven things up with a competition. He and Beth will hunt for one fugitive, while Leland and Justin chase another. The winner will be the duo that captures its fugitive first. Will Dog keep bragging rights as the Best Bounty Hunter in the world, or will his young apprentices steal the mantle from him?
2021
04
24
15
00
Rainy Day Woman
Once a criminal himself, Dog knows how it feels to be hunted. In this episode of our series that focuses on the tumultuous home and professional life of bounty hunter Dwayne "Dog" Chapman, he and the team delve into the depths of Honolulu's Chinatown as they search for a young Samoan girl who's gone down the wrong path. After a frustrating day of hunting, Dog must shift gears to fulfill his suburban Dad obligations by attending his daughter's school play.
2021
04
24
15
30
Ticket to Ride
While hunting an elusive deep sea fisherman, Dog is also trying to plan a great Mother's Day for Beth, but he's having problems finding the special flowers Beth wants. Ultimately the fugitive's friend and girlfriend help Dog and the team with the capture, and then Dog and Beth get to celebrate together.
2021
04
24
16
00
Mother Knows Best
Dog is hunting a man known as "The Godfather of Waikiki". The bond is small, Dog and Beth bailed him out as a courtesy, but now he is refusing to go to court. If Dog doesn't bring him in, this could cost him more than money, as he may lose his respect on the street.
2021
04
24
16
30
Irons in the Fire
Dog is busy. First he's after a fugitive who is allegedly an expert in the game of "burn and return" - shoplifting goods to return them for cash refunds. But he's not easy to track - on the bail application the fugitive's father answers the question "how long have you known this individual" by writing "too long." Making matters worst the fugitive is now homeless, sending Dog and the team on a hunt through the soup kitchens and parks of Colorado Springs. But as the team closes in for the catch they get a big surprise which sends them after a second fugitive who presents challenges of her own.
2021
04
24
17
00
Rocky Mountain Round-Up
Going after two fugitives in one day is tough enough without the facing Colorado's notoriously unpredictable weather. Today it's the threat of sever thunderstorm, hail and area wide tornado warnings. When Dog ask his bail bond friend Mary to give him her toughest character, she responds by sending him in pursuit of a fugitive with a history of over 25 years of run-ins with the law. Second on the docket is a wounded vet recently returned from combat in Iraq. When he tells Dog that "he'd rather die than go back to jail," Dog knows that the bad weather will be the least of his worries today.
2021
04
24
17
30
This One's for You
It hurts Dog to see people who after years of walking the straight and narrow, suddenly lose their way. But today's case is a member of the law enforcement community who has recently gone astray, and that truly troubles the Dog. Not only does Moses know the tricks of the trade, there's the possibility he's packing his government issued handgun. Although the hunt is long, the ending is hopeful, because Dog comes to believe that with the help of a supportive family this fugitive might just make it. And in fact for Dog's second case, family is an essential part of bringing the fugitive to justice.
2021
04
24
18
00
Baby Lyssa Steps Up
Dog is back in Denver and in hot pursuit of a woman wanted for identity theft. The sad reality is that the identify which has been robbed is her own. She's traded in a bright future for a life on the wrong side of the law. Dog and the posse trawl through Colorado Springs' skid row, hitting dive bars, greasy spoons and no-tell motels looking for leads as they hunt down this good girl gone bad. The case take a turn when Dog gets the fugitive on the phone and instead of accepting his offer to turn herself in, she taunts him with the claim that she'll never be caught. This only steels Dog's resolve.
2021
04
24
18
30
Running on Empty
Being hunted by the Dog is a lousy way celebrate your birthday but that's exactly the spot that Robert finds himself in today. He's missed his court date, quit his job, and vacated his last know address. With precious little to go on Dog and the team turn to Robert's extended family. The hunt leads them through the homes of the fugitive's aunts, uncles, and various cousins. Some are forthright, and others are less so, and it's Dog's job to determine whom he can trust. Finally, the hunt comes down a single tip that Robert is on his way to a relative's apartment. The team surrounds the apartment lying in wait. The question on everyone's mind, 'Is Dog right?'